Tress MacNeille is an American voice actress. She voiced the angry nurse on Duckman.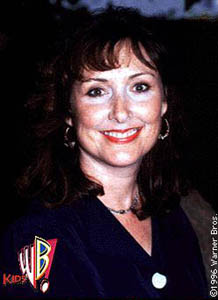 Notable Roles
Edit
Kiki's Delivery Service - Osono
Chip n' Dale's Rescue Rangers - Chip, Gadget
Tiny Toon Adventures - Babs Bunny, Rhubella Rat
Duckman - Nurse
Freakazoid! - Debbie Douglas
Rugrats - Charlotte Pickles
Pinky and the Brain - Billie
Animanicas - Dot Warner, Hello Nurse, Marita Hippo,
Fantasia 2000 - Daisy Duck
Dilbert - Carol
The Flinstones: On the Rocks - Wilma Flinstone
Cinderella 2: Dreams Come True - Anastasia Tremain
Hey Arnold! - Arnold's Grandma
Dave the Barbarian - Fang
Lilo and Stitch: the Series - Bonnie
Disney Princess Franchise - Merriweather
Futurama - Linda, Mom, Petunia, Hattie McDoogle, Dr. Cahill, Mrs. Fry, Turanga Munda, Tinny Tim, Ndnd, Vyolett, Mildred, Brett Blob, Hookerbot 5000
the Simpsons - Dolph, Agnes Skinner, Lunchlady Doris, Jimbo Jones, Brandine Spuckler, Manjula, Crazy Cat Lady, Lindsay Neagle, Sherri, Terri, Bernice Hibbert,
Mickey Mouse Clubhouse - Daisy Duck
Rick and Morty - Mrs. Tate, Roy's Mother
Ad blocker interference detected!
Wikia is a free-to-use site that makes money from advertising. We have a modified experience for viewers using ad blockers

Wikia is not accessible if you've made further modifications. Remove the custom ad blocker rule(s) and the page will load as expected.