Timothy James Curry, better known as Tim Curry, is an English actor. His well known roles include Dr. Frank N. Ferter in the Rocky Horror Picture Show, evil clown Pennywise in It, Nigel in The Wild Thornberrys, destruction spirit Hexxus in Ferngully: The Last Rainforest, Lieutenant Petrov in The Hunt For Red October and Roger Corwin in Charlie's Angels. He voiced King Chicken on Duckman.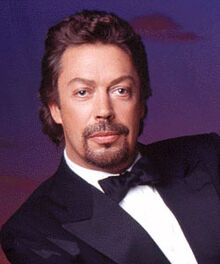 Ad blocker interference detected!
Wikia is a free-to-use site that makes money from advertising. We have a modified experience for viewers using ad blockers

Wikia is not accessible if you've made further modifications. Remove the custom ad blocker rule(s) and the page will load as expected.