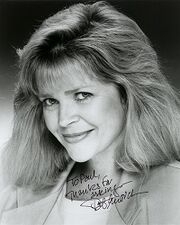 Patricia Elizabeth "Pat" Musick is an American voice actress who voiced Fluffy and Uranus on Duckman. She also took over Dana Hill's role as Charles, after her death in 1996. Her daughter, Mae Whitman, voiced the little girl who scrapes her knee in Sperms of Endearment, and is now the current voice of Tinker Bell.
Noteable Roles
Edit
An American Tail - Tony Toponi
the Smurfs - Snappy Smurfling
Rockin' With Judy Jeston - Starr, Zowie, Fan Club President
Teenage Mutant Ninja Turtles - Mona Lisa
Adventures of the Gummy Bears - Ursa Gummy
Duckman - Fluffy, Uranus, Charles Duckman, Morriss Morrissergaiovich, Emily
Batman: The Brave and the Bold - Martha Wayne
Ad blocker interference detected!
Wikia is a free-to-use site that makes money from advertising. We have a modified experience for viewers using ad blockers

Wikia is not accessible if you've made further modifications. Remove the custom ad blocker rule(s) and the page will load as expected.