Jason Alexander is an American actor. He is well known for his role as George Costanza in the sitcom Seinfeld. He played the lead role of Duckman.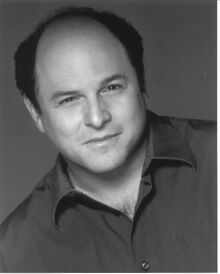 Notable Roles
Edit
Seinfeld - George Costanza
Pretty Woman - Phillip Stuckey
North - North's Dad
The Hunchback of Notre Dame - Hugo the Gargoyle
Duckman - Eric Duckman, Himself, Trigorin
The Adventures of Rocky and Bullwinkle - Boris
Dilbert - Catbert
A Fairly Odd Movie: Grow Up Timmy Turner- Cosmo
Ad blocker interference detected!
Wikia is a free-to-use site that makes money from advertising. We have a modified experience for viewers using ad blockers

Wikia is not accessible if you've made further modifications. Remove the custom ad blocker rule(s) and the page will load as expected.