Greggory "Gregg" Berger (born December 10, 1950) is an American voice actor, who is known for his iconic role as Odie from the Garfield franchise. He voices Cornfed on Duckman.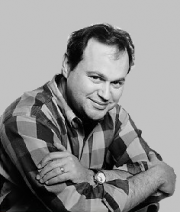 Notable Roles
Edit
Garfield Franchise - Odie
Transformers Franchise -Grimlock
St. Elsewhere - Dr. Van Werner
Little Nemo: Adventures in Slumberland - Equestrian Master
Duckman - Cornfed Pig, Live Action Cornfed, Paul Golden, Sal Gado, Petrov
Aahh!!! Real Monsters - The Grumble
The Amanda Show - Camera Man
Mini Adventures of Winnie the Pooh - Eeyore
Ad blocker interference detected!
Wikia is a free-to-use site that makes money from advertising. We have a modified experience for viewers using ad blockers

Wikia is not accessible if you've made further modifications. Remove the custom ad blocker rule(s) and the page will load as expected.