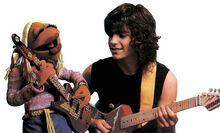 Dweezil Zappa is an American musician and actor who performed the voice of Ajax on Duckman. He is the son of Frank Zappa. As a teenager he and his sister, Moon Zappa (famous for popularizing "Val Speak") were MTV VJ's, and both starred in a short lived MTV sitcom. He recorded his first single My Mother is a Space Cadet while working for MTV but was soon fired for speaking badly of the company on a radio talk show. He records and tours playing both original music, and covers of his fathers work.
Acting Roles
Edit
Pretty in Pink - Simon
Normal Life - Jake Harlow
Duckman - Ajax Duckman
Jack Frost - John Kaplan
Metalocalypse - Dethcamp
Ad blocker interference detected!
Wikia is a free-to-use site that makes money from advertising. We have a modified experience for viewers using ad blockers

Wikia is not accessible if you've made further modifications. Remove the custom ad blocker rule(s) and the page will load as expected.