Bobcat Goldthwait is an American comedian, actor and director. He was a reoccurring guest star on Duckman.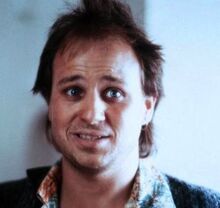 Notable Roles
Edit
Police Academy 2: Their First Assignment - Zed
Police Academy 3: Back in Training - Zed
One Crazy Summer - Egg Stork
Police Academy 4: Citizens on Patrol - Zed
Shakes the Clown - Shakes the Clown
Eek! the Cat - Blitzen
Duckman - Cinque, Wino, Native American
The Tick - Uncle Creamy
Dr. Katz, Professional Therapist - Bob
Hercules - Pain
Sabrina, the Teenage Witch - Merlin
Hercules: the Series - Pain
Buzz Lightyear of Star Command - XL
House of Mouse - Pain
Lilo and Stitch: the Series - Nosy
Adventure Time - Ed
Randy Cunningham: 9th Grade Ninja - Dickie
Aqua Teen Hunger Force - Zingo
Regular Show - Johnny Crasher
Bob's Burgers - Gary
Notable Directing Jobs
Edit
Shakes the Clown
Crank Yankers
Chapelle's Show
Jimmy Kimmel Live
Important Things With Demetri Martin
Ad blocker interference detected!
Wikia is a free-to-use site that makes money from advertising. We have a modified experience for viewers using ad blockers

Wikia is not accessible if you've made further modifications. Remove the custom ad blocker rule(s) and the page will load as expected.