Ben Stein is an American lawyer and actor known for his dry delivery. He played Dr. Ben Stein on Duckman, a character inspired by himself.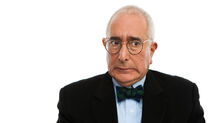 Notable Roles
Edit
Ferris Bueller's Day Off - Economics Teacher
Planes, Trains and Automobiles - Witchita Airport Representative
Animaniacs - Pip
The Mask - Dr. Arthur Neuman
Duckman - Dr. Ben Stein, Lionel Stein
Pinky and the Brain - Pip
Fairly Odd Parents - Pixies, Sanderson, Head Pixie
The Emperor's New School - Mr. Purutu
Family Guy - Rabbi Goldberg
As Told By Ginger - Buddy Baker
Stated that Obama hates America because he's half black.
Ad blocker interference detected!
Wikia is a free-to-use site that makes money from advertising. We have a modified experience for viewers using ad blockers

Wikia is not accessible if you've made further modifications. Remove the custom ad blocker rule(s) and the page will load as expected.