Bebe Neuwirth is a Broadway actress, singer, dancer, film and voice over actress. She was the voice of Tamara Le Boinque on Duckman.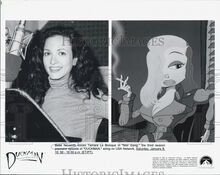 Notable Film and Television Roles
Edit
Say Anything - Mrs. Evans
Cheers - Dr. Lillith Sternin-Crane
The Adventures of Pete and Pete - Mail Carrier
Aladdin: the Series - Mirage
Jumanji - Nora Shepherd
Duckman - Tamara La Boinque
All Dogs Go to Heaven - Anabelle
Summer of Sam - Gloria
An Extremely Goofy Movie - Sylvya Marpole
How to Lose a Guy in 10 Days - Lana Jong
Cyberchase - Binky the Cat
Fraiser - Dr. Lillith Sternin
Law and Order: Trial by Jury - ADA Tracey Kibre
Over the Garden Wall - Marguritte Grey
Ad blocker interference detected!
Wikia is a free-to-use site that makes money from advertising. We have a modified experience for viewers using ad blockers

Wikia is not accessible if you've made further modifications. Remove the custom ad blocker rule(s) and the page will load as expected.